If you have friends who have been on Thailand golf holidays, then you know you have  to go too.  And maybe you are already starting to think about it and work it out. If so, it helps to know that the country is by no means small and Thailand golf courses are well spread out. As many as seven locations are golf destinations in their own right, so knowing what each one offers also helps.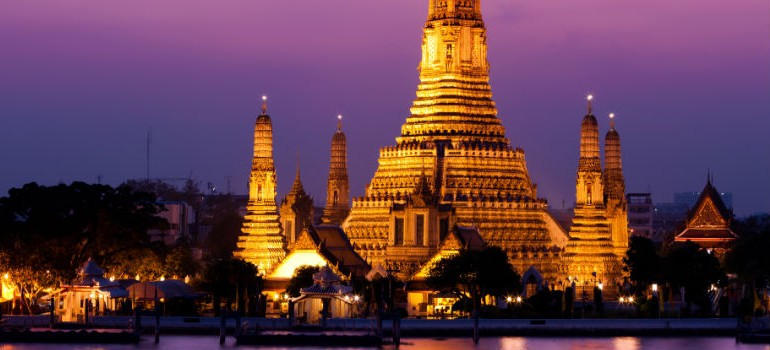 Thailand Golf Tours Cater to All
Each of these seven destinations lends itself to something different, thus enabling a variety in Thailand golf tours.  Some of them  have a larger share of the best golf courses in Thailand including championship venues than the others. And others offer relaxed golfing conditions in resort settings. And so on. Depending on the target audience, be it a group of serious golfers or a relaxed golfing couple or any other type,  the appropriate destination can be picked.
No such thing as too many Thailand Golf Trips
Golfers who fall in love with Thailand ( don't know anyone who hasn't) look forward to also exploring the variety. There's no such thing as too much of a good thing.  Each of the seven locations brings its own flavour  – climate, pace of life, culture, nature, nightlife etc to go along. What you want is what you get on Thailand golf trips.
Here's a list of the seven destinations and a brief glimpse at what they offer
1.
Bangkok
:
With almost 23 million tourists in 2019, Bangkok remains the no. 1 tourist destination in the world. What many will find surprising is the abundance of high quality golf courses there and in its surroundings. Tracks such as Alpine, Thai Country Club, Ayodhya Links, Nikanti and Amata Springs are the creme-de-la-creme of  Thailand golf courses. There are other gems too, so if you come back again you have more options to explore. The commute could be a downside, but is played down by many who believe Thailand golf tours are synonymous with Bangkok. Add the legendary Bangkok nightlife with the hippest bars and clubs and there is nothing that compares.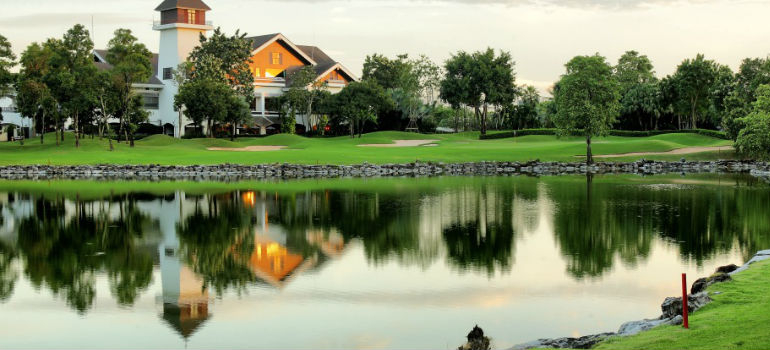 2.
Pattaya
:
Just an hour and a half drive from Bangkok's international airport, Pattaya is a top contender for Thailand golf holidays. With almost 30 golf courses to suit various budgets, if not ability of golfers, it's hard to go wrong here. The four exceptional courses at Siam Country Club, Chee Chan and Laem Chabang are the 6 must play golf courses in Thailand. Golfers who have been here, swear by it as a destination, come back year after year, play the same courses, stay at the same hotel. Maybe go to the same bars too, but let's leave that for another time or another blog.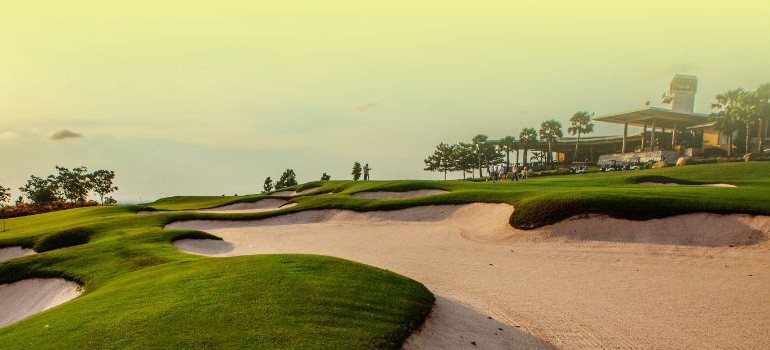 3.
Phuket
:
There is no better place for a Thailand golf & beach holiday than the stunning Andaman island of Phuket. While Pattaya and Hua Hin are also beach towns, the entire island of Phuket is surrounded by turquoise waters and white sandy shores. The party atmosphere is electric and offers something to all.  It is true that the quality of golf in Phuket has waned in recent years due to various reasons. The Blue Canyon courses, though still very good, have slipped in maintenance standards.  Yet, Red Mountain, which is the exception and unequivocally amongst the top Thailand golf courses, is reason enough for a golf trip in Phuket.
4.
Hua Hin
: 
A 3 hour drive from Bangkok,  Hua Hin  is the perfect recipe for those looking for exceptional golf , beach and quiet . After considering Bangkok, Pattaya and Phuket,  it is hard to imagine Thailand golf holidays taking on such a flavour. Yet that is what you get with an uncrowded beach, superb seafood and a laid back hustle free nightlife. Banyan and Black Mountain form part of any golfer's list of Thailand golf courses to play at. Other excellent options include the Jack Nicklaus designed Springfield, Majestic and Imperial, if variety is what you seek.
5.
Chiang Mai
:
In the relatively cooler climes of the hills, Chiang Mai offers yet another unique Thailand golf experience. Chiang Mai Highlands and Alpine are the cornerstones as far as golf tours in Thailand centred around Chiang Mai go. Quite  like Hua Hin, Chiang Mai  has a relaxed riverside vibe and excellent cuisine.  There is no dearth of golf courses if you are looking to add more during the holiday. Besides, there is also the option to include Chiang Rai and its fabulous Santiburi golf course in the itinerary.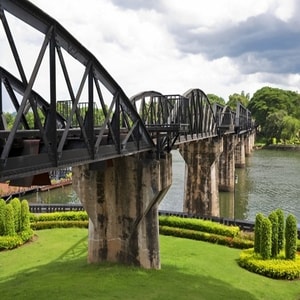 6.
Kanchanaburi
:
Kanchanaburi, 2 hours drive from Bangkok, derives significant tourist appeal for being the site of  Bridge on the River Kwai.  The laid back vibe not dissimilar to Hua Hin or Chiang Mai also contributes to a substantial tourism interest. There are quite a few golf courses in the vicinity, thanks to Japanese and Korean expats. Grand Prix, the best of the lot offers a thrilling challenge deserving to be amongst the top Thailand golf courses. The other golf courses, although not of the same quality offer great value and relaxed golfing conditions. Kanchanaburi  with its riverside resorts and value golf can be a great choice  for relaxed and affordable Thailand golf holiday
7.
Khao Yai
: 
Khao Yai national park, a UNESCO world heritage site, is a region of nature's true bounty. Just 3 hours drive from Bangkok, this is paradise for nature lovers with its waterfalls, hiking and biking trails etc. The weather, a few degrees cooler than Bangkok is also a welcome relief. To be able to play at high quality golf courses here, makes it a Thailand golf destination with a difference. Khao Yai Courses such as Toscana Valley, Mountain Creek, Kirimaya and Rancho Charnvee amongst others  provide sufficient, quality  variety and challenge. Khao Yai would  be the no. 1 destination for Thailand golf tours for nature lovers is such a category existed.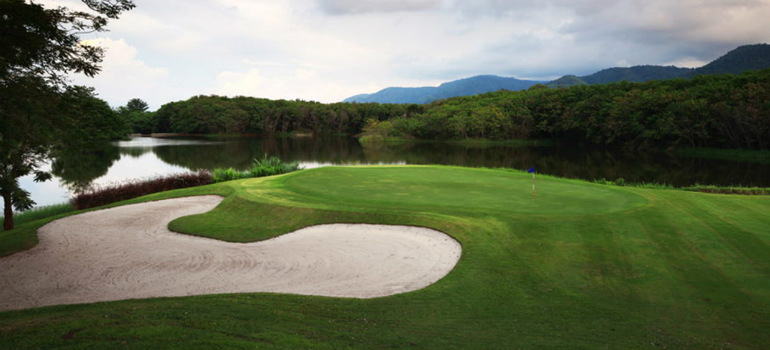 In addition to these, there are other destinations that are also conducive to playing golf, even if they have  just the odd golf course. These may be ideal when golf, though a must for the fix, is not the main objective. 
On an overall note, the Thailand golf infrastructure is world class, as good as in any other country. The variety in Thailand golf holidays  is immense, imploring golfers to come back to experience something new each time. But what sets Thailand golf tours apart is the overall golf experience. Well-appointed club houses, locker rooms, excellent caddies and superb hospitality to go along with efficient management make golf in Thailand a joy.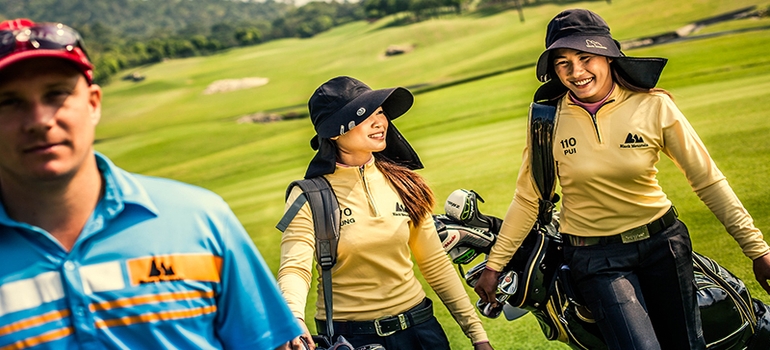 For more information on planning Thailand golf holidays write to Madhav Misra on madhavmisra@golftripz.com. Madhav is the author of this article and the co-founder of Golftripz, a leading golf tour operator that organizes golf holidays around the world.  As part of his job, he travels frequently to various destinations, playing at various golf courses.  He will be happy to share his personal insights on  golf destinations to help you plan better.