Golf and The Bridge on the River Kwai
Although I have made several golf trips to Thailand, I didn't really have the opportunity to visit Kanchanaburi. So, when it did arise, I took it, not just to see the town, but also, the golf in Kanchanaburi. Within similar driving time from Bangkok's airports as Hua Hin, and slightly more than Pattaya, it definitely ticked one box. Whether the golf courses in Kanchanaburi are good enough to carry it was the question. And of course, all the other usual stuff for a destination – weather, restaurants, nightlife, accommodation and things to do. At this point itself, it is perhaps pertinent to mention that "The Bridge on the River Kwai" is in Kanchanaburi.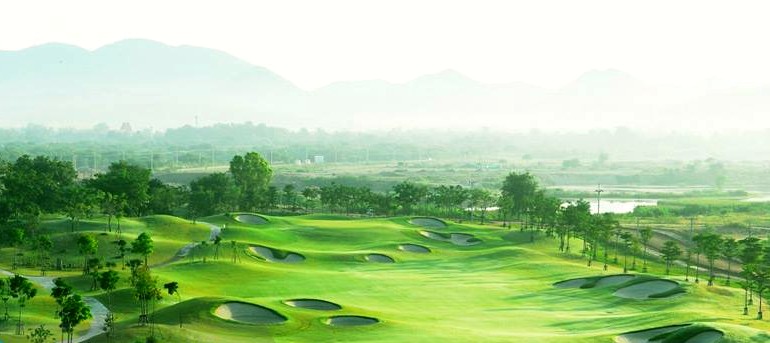 The Surprise Drive from Bangkok
My drive from Bangkok city centre to Kanchanaburi took only 2 hours and fifteen minutes.  I have to say I was pleasantly surprised to find the driver pulling up at my Kanchanaburi hotel so soon. At the same time, I was convinced this was an aberration. Anyway, getting in at 7.45 pm opened up a window to go about town and see around. My first round of golf in Kanchanaburi was planned at 10.00 am, the next morning, allowing for some room. Besides, I also needed to book transportation to the golf course, which I reckoned, would be easily available in town. From experience, I knew, I'd be able to seek out a driver who knew the golf courses in Kanchanaburi well.
Easy Does it
How I got there is a story for another day, but suffice to say, it wasn't without strife. Or for that matter without loss of precious time. By that I mean quality beverage time. I wasn't about to cut on my sleep or delay my first round of golf in Kanchanaburi. The first task was to find a transport provider. The delay meant that all tours and taxi establishments were already closed. I did the next best thing. I took photos of the phone numbers of taxi companies displayed to call the next morning. But, the bars were open. I walked into one, then another where I had a meal as well. And then to Easy Bar, which seemed the liveliest and largest on the street. I lingered easily and made conversation with tourists about various things, including their opinion on the golf courses in Kanchanaburi.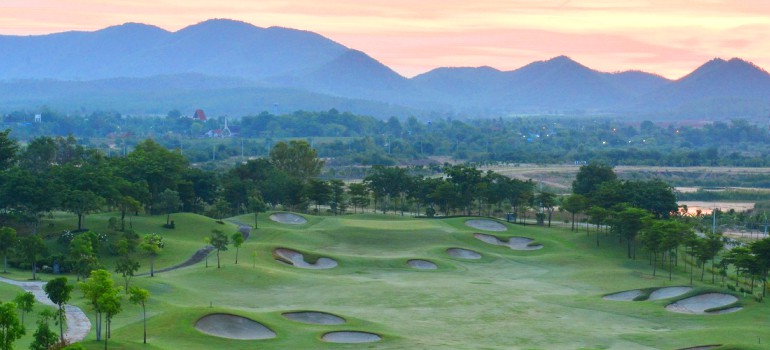 The First 18 at Nichigo
Nichigo Resort & Country Club was the first of the golf courses in Kanchanaburi I was playing, and I reached well in time. I spent about 5 minutes for check-in and a quick look around the clubhouse. All written communication seemed to be in Korean, even in the locker and pro-shop, both of which seemed quite basic. I played the Lake and River nines, leaving out the Mountain as recommended by the starter. Starting on the Lake, it wasn't long before I realized, it was all about ball position on this course. Playing this classic parkland layout, was much about navigating around the trees, alongside the fairway and sometimes right in it. The River course seemed to be a lot more open, yet not bereft of challenges. The downside for Nichigo, as for almost all golf in Kanchanaburi may be the course condition. Especially if compared to other golf destinations in Thailand.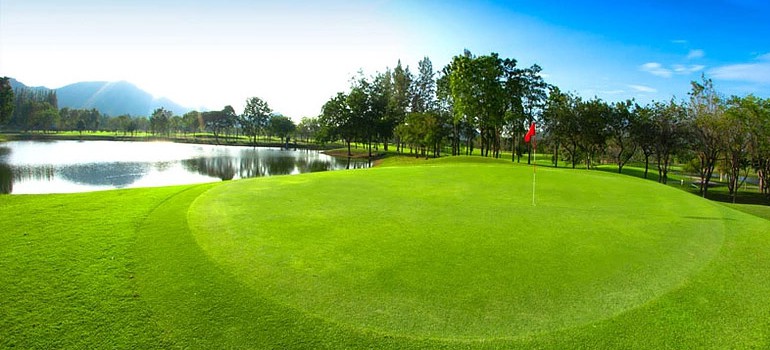 Better off at Mida
I finished my eighteen solo holes in about 2 and a half hours, grabbed a quick lunch and was off. I arrived at Mida Golf Club about 20 minutes later and repeated my routine before going to the starter. The clubhouse and lockers were definitely a big improvement on Nichigo. The same can be said about the golf course condition, which had much better maintained fairways and tee boxes. The course layout, which did not necessarily look inspiring in the front nine, spiced up significantly in the back. Could Mida along with Nichigo be real options to include for golf in Kanchanaburi? Possibly! I was going to play only one more of the golf courses in Kanchanaburi, widely acclaimed to be the best. That would give both Mida and Nichigo a fair chance in a 3 round golf holiday in Kanchanaburi.
The Grandeur of Grand Prix
I wish I had the time to play more golf courses in Kanchanaburi and assess them personally. Instead, to optimize the time available, I selected the 3 that were considered the better of the lot. The last of these 3 was the Grand Prix Golf Club. And as reviewed elsewhere, it did prove to be the best of the lot. Superbly maintained, with one inspiring hole after another, there is nothing ordinary about it. Clubbing it right is often the key to playing well, as the elevation changes and wind can deceive. Water is almost everywhere and most certainly in play. Grand Prix definitely anchors golf in Kanchanaburi and is a golf course not to be missed by Thailand golf regulars. The clubhouse could perhaps rise to the standards of other top golf courses, but that's no reason to miss it.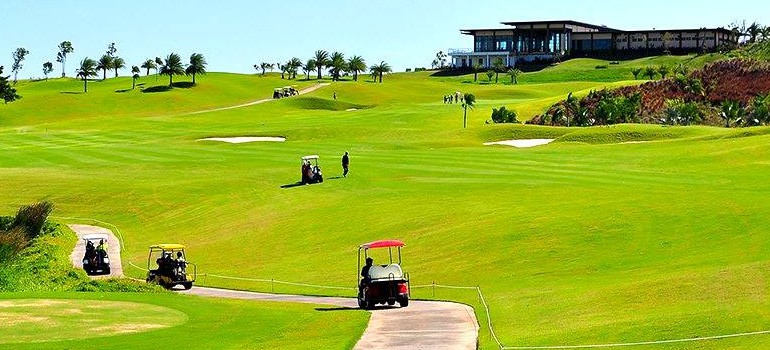 Grand Prix & The River Kwai Await
It is a fair assessment that golf in Kanchanaburi does not match up to that of Pattaya or Hua Hin. But, then that should not be the only reason to give this destination a miss. And if you are looking for something new, especially, laid back and relaxed, this may well be an option. Besides, the riverside resorts hold a charm of their own. And the nightlife, while not explosive is certainly more personal. Finally, Grand Prix & the Bridge on the River Kwai may make it all worth it!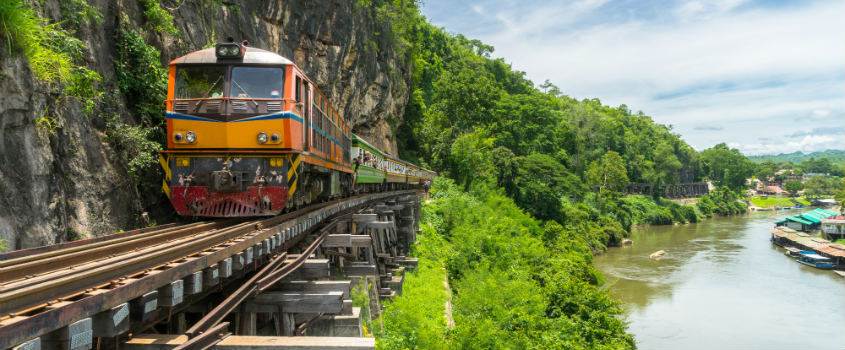 To plan a golf holiday in Kanchanaburi, visit https://www.golftripz.com/golf-holidays/kanchanaburi (or) write to us https://www.golftripz.com/contact-us.