The golf courses in Hua Hin are central to Thailand's strategy to build tourism in the coastal town. Hua Hin, which remains conservative in its ways, compared to other beach resorts in Thailand is adored by visiting golfers. They like it for its peace and quiet, its hassle-free vibe, and the relatively lower levels of commercialization. But most of all, they like it for the high standard golf courses that are available to play.
There is a steady influx of golfers from the world over to play the best golf courses in Hua Hin. Typically, they will sign up for a Hua Hin golf package that includes golf, accommodation, and transportation. These packages allow them to choose both their accommodation and golf courses to deliver a customized trip. Prior knowledge of the best golf courses in Hua Hin is useful to plan such a customized trip. Here we take a look at the three best golf courses in Hua Hin. 
Banyan Golf Course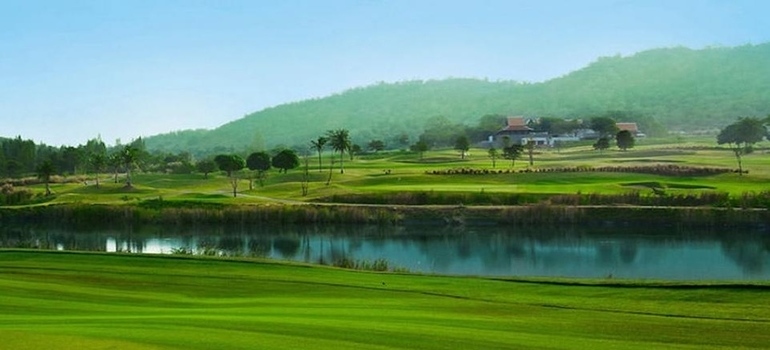 Many consider Banyan as the best golf course in Hua Hin. This may sound contradictory as Hua Hin golf seems almost synonymous with Black Mountain. However, there could be merit in this consideration. One of the things to like about Banyan is the ease with which it blends with the surroundings. Yet, there is a fair degree of thrill and challenge on each hole. The greens give nothing away and knowing the slopes takes some doing. Standout holes include the par 4, 6th, the signature par 3, 15th, the par 4, 16th and the finishing 18th. And it's not just about the standout holes. The ride at Banyan is an exhilarating one and you come back to the clubhouse feeling fulfilled even if frustrated. At this point, do not make the mistake of missing out on the rooftop restaurant and pub. In fact, it should be mandatory in any Hua Hin golf package.
Black Mountain Golf Club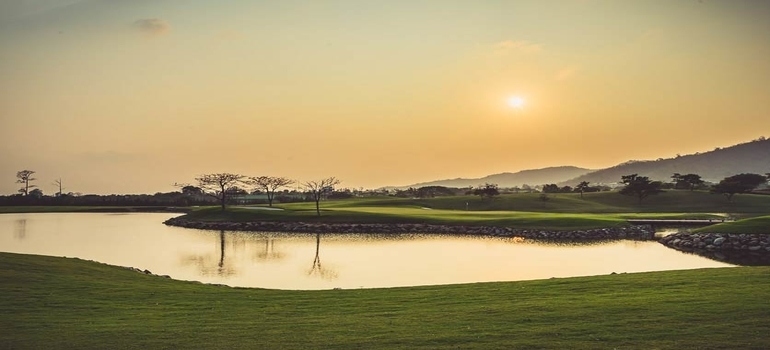 There is no denying that Black Mountain has helped put Hua Hin on the world golf map. Hua Hin golf packages must have the 27-hole Black Mountain included in them to make sense. It is a stunning golf course that offers something to suit every golfer's tastes. One, it is very scenic, second, it is always in great shape and third, it boasts a superb layout. Almost every hole features a change in elevation, sometimes even twice. There is something to be said about the dramatic setting of most greens, another wowing factor. This drama plays its part in distracting the best golfers to force an error. There's enough and more to like about Black Mountain. You will concede, that it belongs right at the top of the best golf courses in Hua Hin or even Thailand.
Springfield Royal Country Club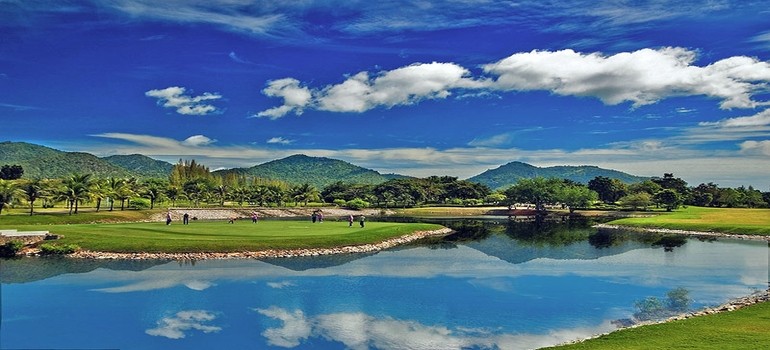 Not so long ago, just before Black Mountain and Banyan, Springfield was the best golf course in Hua Hin. It may very well still be. Ask those who seek the thrill of course design and layout. The 27-hole Jack Nicklaus designed golf course may only lack in course condition. So, if manicured fairways and carpet tee boxes are not a must, you should not miss out on this beauty. In any case, Springfield must definitely feature as the 3rd round golf course in Hua Hin golf packages. Unless you want to repeat a course.