No matter what one says, finding a golf ball in the rough at night is not easy. Even if you are assisted by the world's most assiduous caddies, playing night golf in Bangkok. And, lest you harbor any ideas about "night" and "caddies", some golf courses in Bangkok do offer golf at night. Whether you spend the night, searching for golf balls or actually hitting shots, depends on your game. In my case, I have found no correlation between luminosity and my scores. Although, there is probably one with lost golf balls, even if a course is lit up like Times Square. Terrible golf and golfers (read golfer!)  aside, there is certainly a case for playing night golf. For one, the obvious, is that you can get to play after work. But another, if you are in a place as muggy and warm like Bangkok, the night surely offers relief.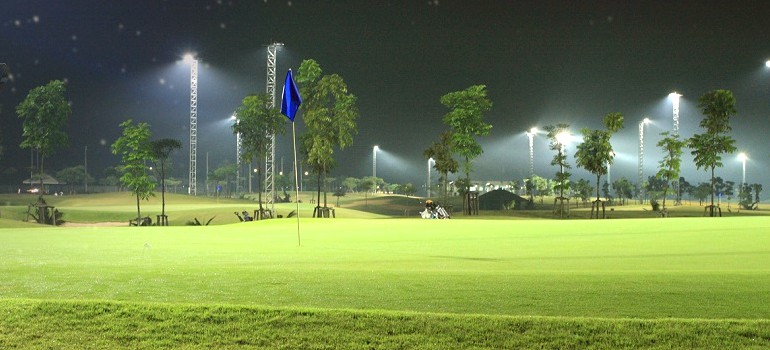 Beat the Heat, Beat the Traffic, Beat the Blues
To cater to these ideas, there are a small number of golf courses in Bangkok that offer golf at night. They are a little bit of a drive away from the city center, but the upside is reduced traffic. There you go – that's another reason for playing night golf in Bangkok. And here comes yet another – the night golf comes at a discount versus the regular rate. While, for weekday golf, this may not amount to much, for weekends there can be big savings. The only question for me, the golfer, being whether the discount covers the cost of additional lost balls. Touch and go, and I am only talking used balls. One thing I have learnt from years of bad golf is to never buy new balls, unless impossible. I suppose I am not alone. After all the used balls industry thrives on hackers like me.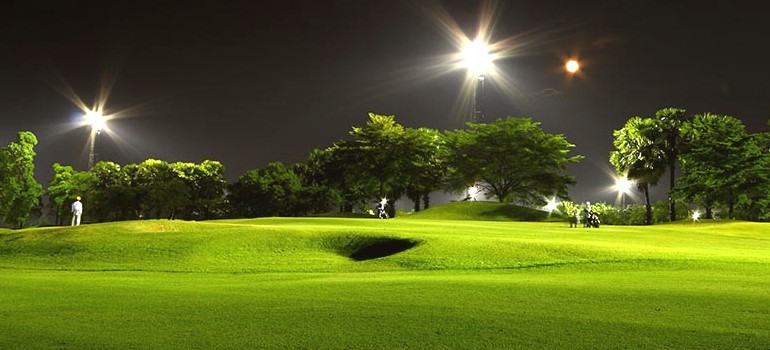 Umbrellas at Night
Four golf courses in Bangkok immediately come to mind. Two of these are close to Suvarnabhumi airport, which works well if you have a late flight out. The Sir Nick Faldo designed Summit Windmill Golf Club and the Jack Nicklaus designed Panya Indra Golf Club! Big names there, not that they have a bearing on your own scores. At least they never had on mine. For the discerning golfers though, there is plenty to like about these designs and the challenges in store. For the undiscerning, the fantasy of hitting a 5-iron flush to land 5 feet from the pin is enough. Unless of course, the caddies particularly at Panya Indra are keeping you in good humour. In fact, the Panya Indra service goes beyond the caddies to "umbrella girls". The job of these umbrella girls is to "protect" you from the elements. Another tick for night golf in Bangkok!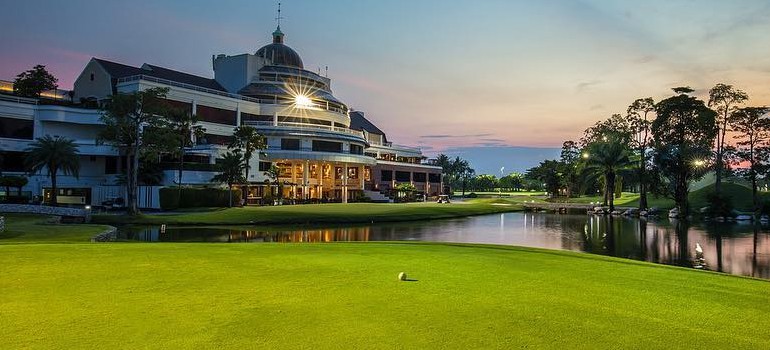 The Notorious Pinehurst
Continuing in that vein, many golfers will think of Pinehurst as the course for night golf in Bangkok. While it started out as one of the top golf courses in Bangkok, of late, the reviews are unsympathetic. This is largely due to the course condition. But then, that's not what drives golfers there. The drivers in fact, are the night golf and the young university students in the form of caddies.
Ayutthaya and Night Golf
Apart from these 3 golf courses, there is yet another to play at night – Rachakram golf club. This is in the same direction as Ayutthaya, so it may be worthwhile combining with a day's sightseeing trip there.  No better way to beat the traffic, than by avoiding it by playing golf before returning.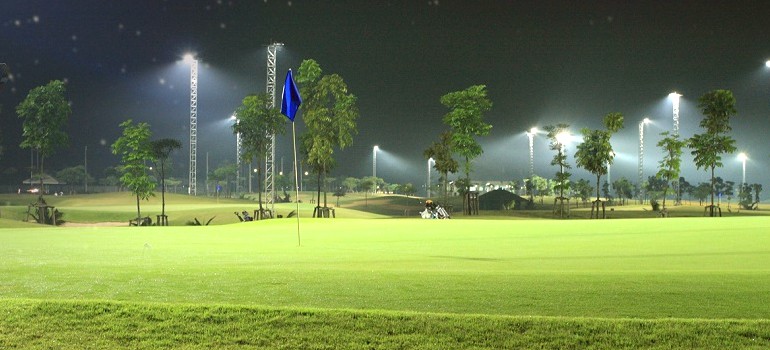 Golf in Bangkok can take on various themes to suit various interests. Night golf is one of them, and not the most irrelevant one. And it just may be the way to beat the heat & the traffic, when you want to play golf in Bangkok. Or on your way out just before a late night's flight.
To book a tee time at any of these golf courses in Bangkok or to plan a golf holiday in Bangkok, write to us, https://www.golftripz.com/contact-us