A couple of months ago, I played a horrible round at Forest City, home to two of the finest golf courses in Johor Bahru. While playing horrible golf is nothing new for me, finding an excuse for it has never been difficult. Yet, I couldn't find anything for this occasion. There was absolutely nothing to lay blame on. In fact, all I could think of was how Forest City is ideal for a golf holiday in Johor Bahru. And how I would come back roaring with a scorching round at the breathtaking Classic course. I would use my imminent top form to play a stellar round at the Nicklaus Design Legacy course as well. Yes, if wishes were horses, beggars would ride….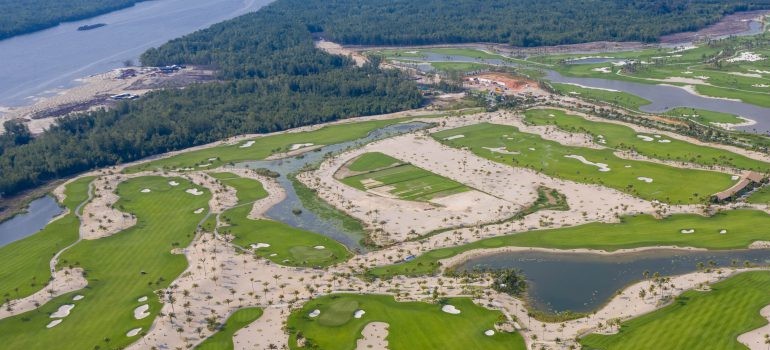 About Time the Golf Courses in Johor Bahru got their due
The golf courses in Johor Bahru do not get their due. Yes, it is true, that golf deprived residents of Singapore are always making a beeline. Yet, you wonder whether the beeline would reduce to a trickle, if price wasn't a factor. That may be a little unfortunate, given that some of the golf in Johor Bahru is truly top-class. Certainly, that's what you would say about the 2 golf courses in Forest City. Add to these, the exquisite Horizon Hills, and one is talking about a threesome that would do any destination proud. Mind you, that's not where it ends. The Els club in the  not so distant Desaru features 2 more splendid golf courses – designed by Ernie Els and Vijay Singh. It therefore stands to reason that a golf holiday in Johor Bahru could hold its own against several others.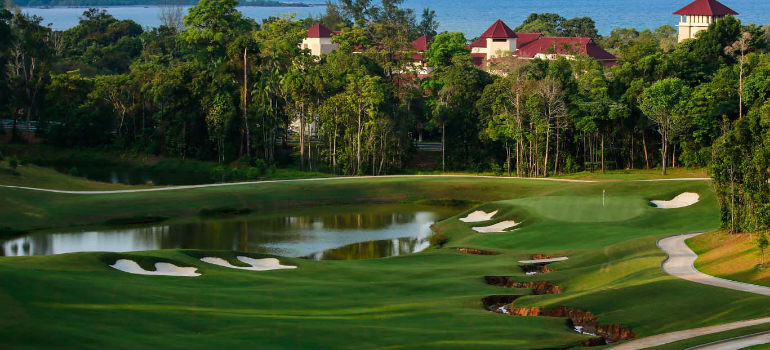 Eat, Drink, Party, Shop
Then there's the question of what else there is to do in a golf holiday in Johor Bahru. After all, a golf round with the back and forth may take only about a quarter of a day. Golfers with their common concerns of food, drink and party, need not fret. Over the years, Johor Bahru has come to offer plenty of options. Catering to an ever-expanding range of expats and tourists, Johor Bahru does not disappoint with the cuisine variety. The stretch alongside Jalan Dhoby is an excellent hangout with its bars and cafes. And for something more raucous, the clubs at the Berjaya Waterfront are perfect to take the night into. Clearly, there is enough that complements the fine golf courses in Johor Bahru.  Is there anything else that a golf destination needs to be called as such?
Have you ever seen the rain?
The best time for a golf holiday in Johor Bahru is in the drier months. Although, it has to be said that rain in this part of the world is a regular phenomenon. That said, the chances of a game being washed out completely are small. If at all, it may happen in the peak rain period between mid-November to mid-February. So, if you want to be sure, you may consider avoiding this period.  The locals almost always tee off in the morning hours as rain comes in the afternoons. That could be a good tip, when planning a tee time at one of the golf courses in Johor Bahru.
Easy Getting There but Mind the Peaks
Getting to Johor Bahru has never been a challenge. Residents in Singapore do it all the time. Arranging a transfer from Singapore's Changi Airport to Johor Bahru is a standard affair. However, if you are planning a packaged golf holiday in Johor Bahru, the return airport transfer can be included. It is worthwhile considering the peak travel times. Weekends and public holidays are when Singapore residents look to get away to shop and dine. Being on the right side of these peaks, both inwards and outwards, can make a big difference to your experience. 
The other option is to include it in a larger Malaysian golf vacation, arriving and departing out of Kuala Lumpur. This will also provide the opportunity to play some exceptional golf courses in Kuala Lumpur and Langkawi. 
In summary, it won't be long before a golf holiday in Johor Bahru catches fire. The quality of golf courses in Johor Bahru is too good for that not to happen. If you want to be ahead on the curve, you can write to info@golftripz.com to have it planned to the finest detail.