An expat living in Surabaya, mentioned not too long ago, that the golf in Surabaya was worth checking out. I did not take it seriously at the time, but soon after, I heard another mention of the golf courses in Surabaya. So, I decided that it was time that I look it up.
The Gateway to Indonesia's Best Golf Course
A quick scan revealed this capital city of East Java to also be the second largest city in Indonesia.  Further search revealed a list of as many as seven golf courses in and around Surabaya. This list while not short, itself may not have sufficed. Except that it also contained the no. 1 ranked golf course in Indonesia.
Golf Break in Surabaya – Easier and Quicker than you can Imagine!
It wasn't long before I was on a plane to check out the golf courses in Surabaya first hand. For the uninitiated, Surabaya enjoys excellent connectivity with both Singapore and Kuala Lumpur with 2 to 3 flights daily. I realized the flight connections would allow me to stay 2 nights and play 3 rounds. That's exactly how I planned it. A buddy of mine came along.
Finna Golf & Country Club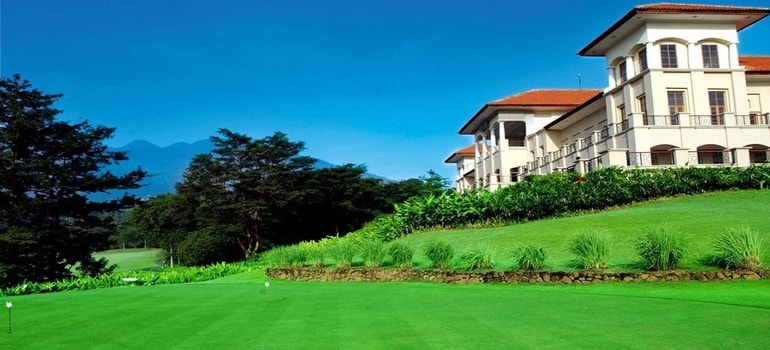 We arrived in Surabaya after a 2-hour flight from Singapore in the morning. The drive to Finna Golf Course in Pasuruan, took an hour and a half, longer than usual, due to traffic. No time was wasted in getting on the golf course, although it was practically empty given it was afternoon. A treat to a bunch of remarkable golf holes awaited – the par 3, 5th overlooking Mt. Penanggungan being the standout. Other surprises were the par 5, 10th and the postage-stamp green bearing par 3, 12th. The course condition may have left a tiny bit to be desired, but the layout was overwhelming. In summary, Finna deserves to be on the list of must play golf courses in Surabaya.
Ciputra Golf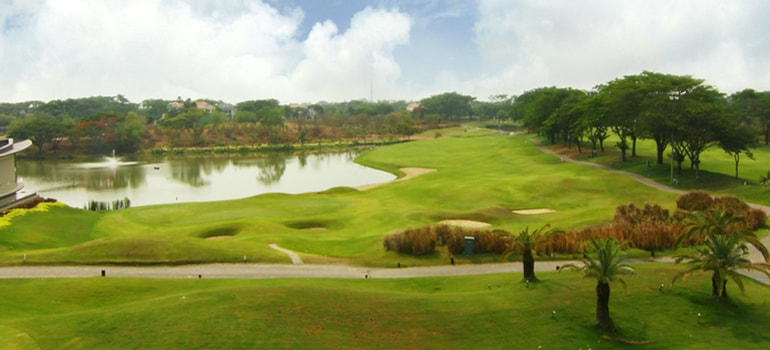 Although we played Finna the previous day, we were still to be gung ho about golf in Surabaya. To remain objective, we tried not to harbour any expectations about the 2nd golf course of our trip, Ciputra. But that changed, when we got to our approach shots, on the 4th hole of the Valley Course. Suddenly, we felt that the golf course promised more. And it delivered. The Valley Course ended with a fabulous par 5, where accounting for the sloping fairway is critical. We played our second nine on the Lake Course, which wasn't bereft of surprises either. These included the par 3, 12th and the par 5, 13th and the finishing par 5, 18th. Ciputra gave us something to think about the golf courses in Surabaya and got our expectations going.  Golf in Surabaya could work with the best golf course in Indonesia still to play!
Taman Dayu Golf Club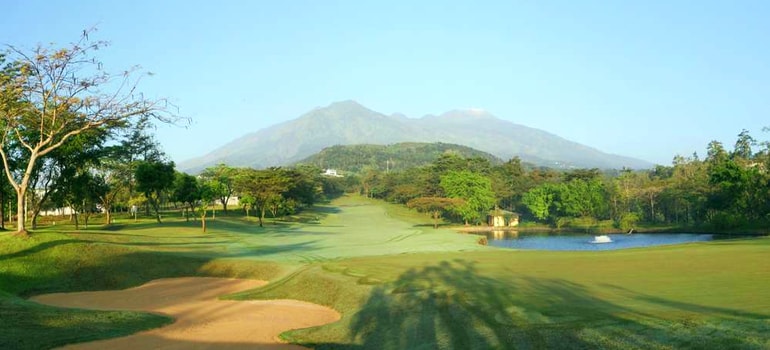 We were really looking forward to validating the No.1 ranking of the Jack Nicklaus designed Taman Dayu. It was about an hour's drive before we got to Taman Dayu, after checking out of our hotel in Surabaya. There was a meet and greet by both the operations manager and starter, which was a nice touch before teeing off. Standing on the first tee and looking at the hole ahead, we knew were in for something special. That's exactly how it played out, one remarkable hole after another, in a pristine wooded and mountainous setting. We realized, if one just had to come to Taman Dayu for a stay and play, it would work. You can never tire of this incredible layout and would want to go back again and again. Taman Dayu is the reason to come and play golf in Surabaya. Ciputra and Finna, play supporting roles as the other golf courses in Surabaya to be included.
Two Night Stay and Three Rounds
Our plan of staying just two nights and playing three rounds worked out absolutely fine. We were able to catch an early evening flight after our round at Taman Dayu. Golf in Surabaya definitely works and can be done as a quick weekend trip. The golf courses in Surabaya, led by Taman Dayu promise as good a mix as you will find anywhere. Beyond the golf, there is enough to hold your fancy in Surabaya. If you have some extra time, a one-day trip to Mount Bromo is not to be missed. For a relaxed evening head to the beautiful colonial Majapahit Hotel and have a drink with live music. If you are looking to party, there's no shortage of nightclubs that stay open till late.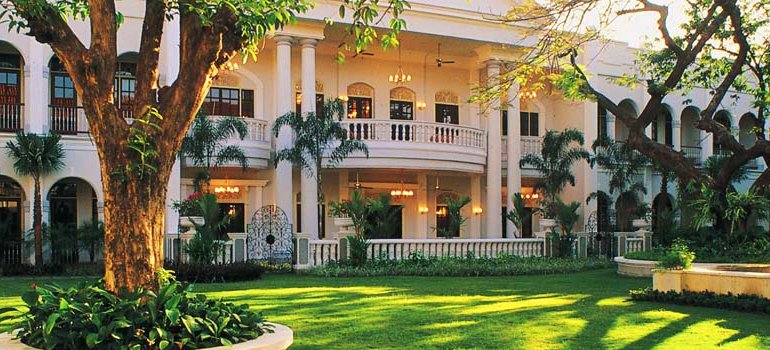 For more information on Surabaya golf packages or to book a golf trip in Surabaya visit https://www.golftripz.com/golf-holidays/surabaya