There is something in the lure of Vietnam that sets it apart from other destinations in South East Asia. Whether it's the fascinated first-time visitor or the seduced repeater, the charm is endless, just as the tourism tagline. Incredibly, this now applies to playing golf in Vietnam as well. A Vietnam golf trip is surely making its way to becoming a must do. Yet at the same time, those who have already done it, cannot wait to go back for more. And in no small part, this is attributable to the growth in golf destinations featuring fabulous golf courses. The variety of destinations is adding to the pull to go back and check something else out. One such destination is Nha Trang, located alongside the magnificent southern coast of the country. Golf in Nha Trang is as good as it gets in Vietnam.
An Easy Hop from Bangkok or Kuala Lumpur
Nha Trang has been a popular beach destination for a while. Of late, there has been a major boom in tourism, driven primarily by the addition of direct international flights. Amongst others there are direct daily flights from Kuala Lumpur and Bangkok, two South East Asian hubs. This makes it really convenient for golfers from around the world to get to Nha Trang without another stopover. And for another Vietnam golf trip, without too much fuss, especially with reduced commutes to golf courses. The golf in Nha Trang comprises three golf courses, which could easily be covered over a 2-night stay. Anyway, that's what a die-hard golfer would do with a round just after arrival and another just before departure. And that's if we are selling him short!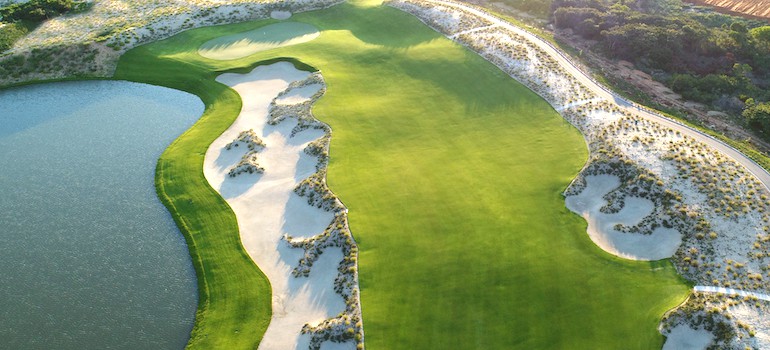 Set the Pace with Diamond Bay
The first golf course I would play is Diamond Bay Golf Course, which has been around the longest. Designed by Andy Dye, there is plenty to consider on this golf course, not the least of it being strong winds. The surrounding mountains and the nearby ocean can channel in score-card destroyers, as club selection goes for a toss. There are only a few holes that you would consider ordinary and that's the positive thing about the course. However, I'd be honest in admitting that the course condition does leave something to be desired. Whether you play or skip, depends entirely on the number of rounds of golf in Nha Trang, that you plan.
The Vinpearl Has it All
The challenges of the Diamond Bay design are matched by the spectacles on the Vinpearl golf course. It begins with the catamaran ride to get to Hon Tre Island where the massive resort is situated. The IMG designed Vinpearl is a must do on a Vietnam golf trip that features golf in Nha Trang. While there is plenty of room for errant shots, the elevation changes keep you honest. The course condition is top class, leaving no cause for complaint. But, what will thrill you the most, are the views. No matter how you play, playing at the Vinpearl will be a fulfilling experience.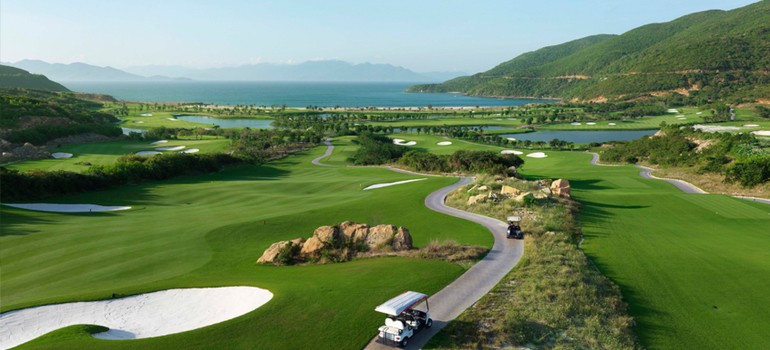 Piece De Resistance
The piece de resistance in the golf in Nha Trang has to be the KN Golf Links – Cam Ranh. Greg Norman keeps outdoing his previous designs, every time he takes up a project on Vietnam's coastline. One stunning hole after another makes up the ride. Choose your tees carefully or be penalized! Severe changes in elevation, long stretches of waste and strategically placed hazards are only some of the factors in shot-making. The dunes landscape typical of the region adds plenty of character to the layout. The course condition is second to none and the views are bountiful. The Cam Ranh Links is reason alone for a Vietnam golf trip. Play it once or twice or as many times as you like. Play it on day of arrival or day of departure or both. The airport is next door.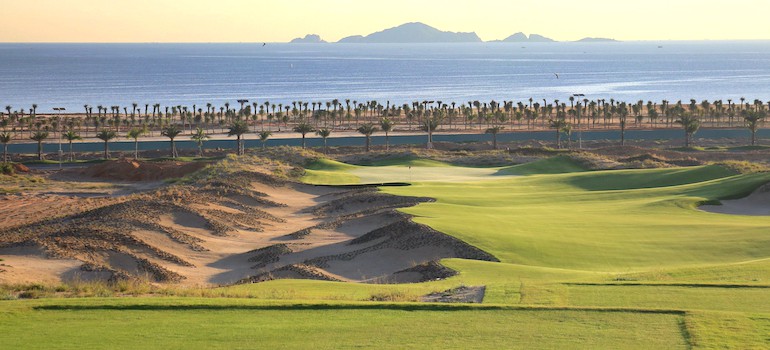 To plan a Vietnam golf trip or to play golf in Nha Trang, get in touch at www.golftripz.com/contact-us