9 Golf Holidays in Vietnam: 6. Golf in Dalat
Very few places in South East Asia can match a golf holiday in Dalat, because of the climate on offer. The 1500 m elevation has much to do with that. The elevation and climate also combine to offer a distinct style of golf courses in Dalat. Pine forests, hills, lakes and waterfalls are as integral to the layouts as to the city surrounds. It is not hard to be charmed by Dalat, also referred to as the City of Eternal Spring. It is also not hard to understand why golfers from South East Asia love Dalat as a golf destination.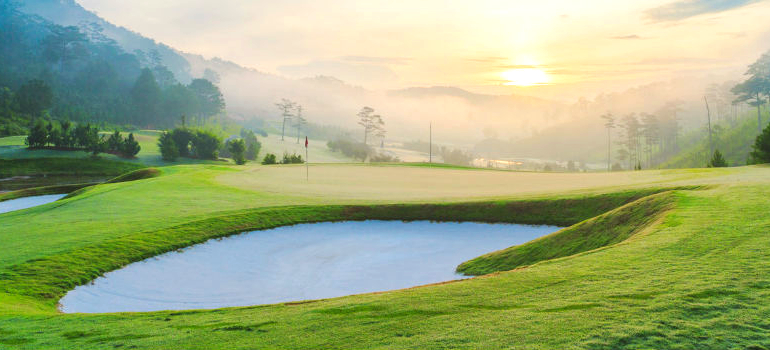 3 Golf Courses in Dalat
Golfers, being able to play at 3 different golf courses in Dalat is what sets it up as a destination. While the weather is the main draw, the variety on offer, makes a golf holiday in Dalat compelling. The Dalat Palace Golf Club is where it all began, not just for Dalat but for Vietnam. On the course, be treated to some incredible natural beauty while meandering through an imaginative layout. Of course, nothing gets better than relaxing with a coffee at the colonial clubhouse. Sam Tuyen Lam Golf Club is one of the other 2 golf courses, set in a stunning valley. The elevation changes, bunkers and water bodies make for a challenging round. Elevation changes are also a key feature in the Dalat at 1200, the third of the Dalat courses. Designed by the Asian legend Kyi Hla Han, there is much to consider, especially on the greens.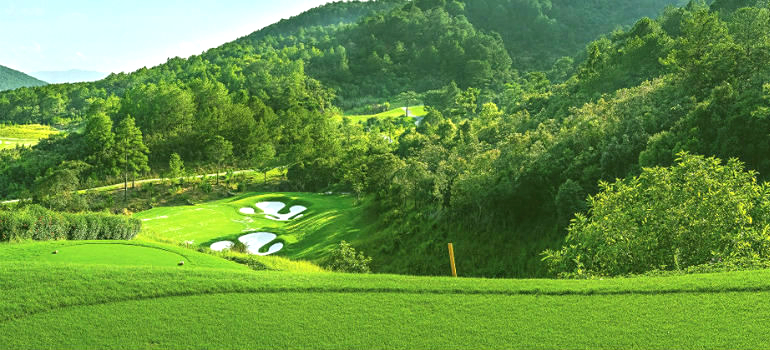 Turning on the French Charm
Golfers who have already been on a golf holiday in Dalat, would happily go again. While the golf courses in Dalat and the pleasant golfing weather are the main reasons, there are more. The city built by the French at the turn of the 20th century, has much to offer. The villas, boulevards, cafes, the lake and the relaxed pace each do their part in turning on the charm. With relatively shorter commutes to the golf courses, there is plenty of time left in the day to explore. You couldn't ask for a more relaxed and comfortable golf holiday.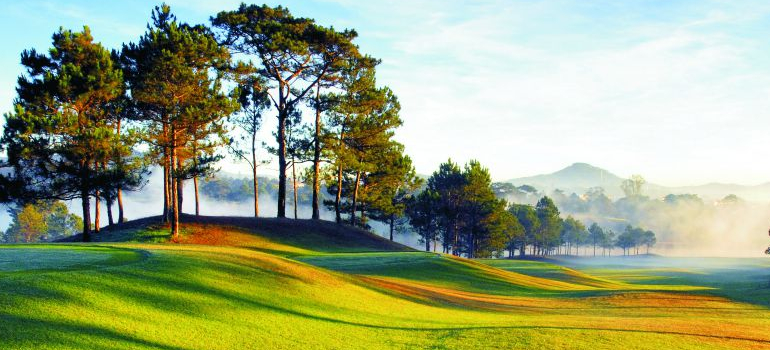 Getting Easier to Get to Dalat
You could choose from a variety of options to get to Dalat. Some don't mind the drive from Ho Chi Minh City which can take between 6 to 7 hours. Those who wouldn't want to do the long and winding drive, can take the 30-minute flight. There are plenty of flight options from Ho Chi Minh City and a few from Hanoi as well. The closest airport with international flights is Cam Ranh at about a 3- hour drive. There are direct flights from Bangkok and Kuala Lumpur. Golfers can also consider combining their golf holiday in Dalat with Nha Trang, the beach destination. Mountains, Beach & Golf all in one. Sounds like a promising golf holiday.
To plan a golf holiday in Dalat, visit www.golftripz.com/golf-holidays/dalat (or) write to us www.golftripz.com/contact-us.