One thing you wouldn't do is rush through the magnificent breakfast spread at a Ritz Carlton. Yet that's what typically happens with me, especially with early morning golf rounds. I prefer lazy mornings, but time limitations in my trip to explore golf in China didn't quite allow that. This particular morning rush was in Guangzhou, fueled by the eternal promise of a superlative round to come. Golfing fantasies aside, I was also trying to be on time to meet my driver for the day. He was to ferry me to the Dragon Lake golf course which held much promise. Having been impressed by Peach Garden the previous day, I was looking forward to it. The more the number of quality golf courses in a destination the better it is. A golf holiday in China could possibly go beyond Mission Hills and Kunming.
Enter the Dragon
I got to Dragon Lake Golf course, with more than an hour to go for the scheduled tee time. I couldn't help the negative thoughts I had for the ground handler and her paranoia about the traffic.  To be deprived of sleep and ambrosia so that you reach an hour before your tee time isn't exactly fun. Thankfully, the starter said, I could get on immediately. Thankfully also, that's the language all golfers understand, whether they are playing golf in China or anywhere else. I quickly armed myself with what proved to be the most utilized item for the round. Golf balls. There, I gave it away! My biggest fantasy, that of a par round, wasn't going to come true, at least on that day. Or for that matter, in that entire golf holiday in China which was to include another round of golf in Kunming.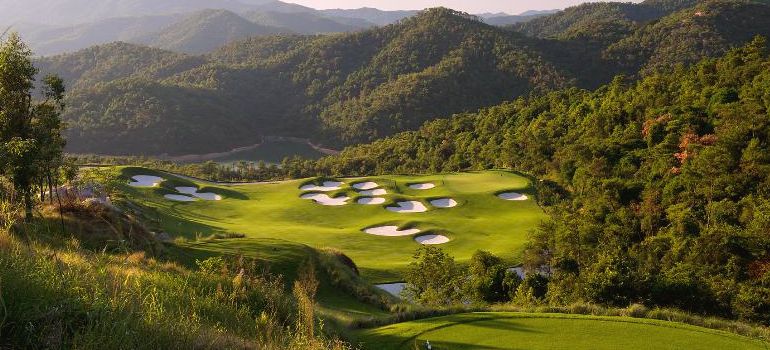 Going Solo
I started on the 12th hole, not unlike my several solo rounds in different parts of the world. The course operations believe it best to isolate a single golfer by starting him off on an odd hole. I have no reason to complain about that, except other golfers, can be a little more entertaining. Even if they are expletive spewing, ill-mannered & grumpy companions. On that note, I also don't want to be stuck with players whose perseverance for perfect process causes unfettered delays. On this day, however, I was happy to be alone on the 12th, downhill par 3, playing about 180 yards. I swung a 5 iron as hard as I could after rapid practice swings, landing just right of the green. Without too much further ado, I chipped next to the hole for a gimme.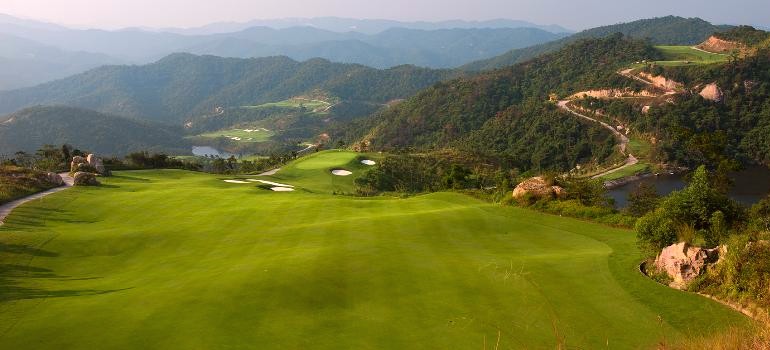 The Opposite of Fantasy
We may have set a new world record for fastest play of a hole of golf in China. When I say we, I mean my assigned caddy and I. It's been a while, so I cannot recall the caddy's name, but I have no problem in remembering the 13th. Especially as I made a meal of it. As I did on most others to follow. The par on the 12th seemed like the false start, given the ensuing struggles. Golf in China was breath-taking, but I was on the opposite end of my fantasy. Regretfully, I had enough golf balls to sucker me and ensure that my miserable golf holiday in China continued unabated. And then, when I let go of all my expectations of my round, the scores got better.
The Hefty Tip and Respect Earned
Suddenly the tee shots were finding the fairways and approaches, the greens. And what's more I did not let the expectations get the better of me. I almost began to feel, towards the last couple of holes, that I may have redeemed myself. Not so much with my golf holiday in China, but with the caddy. I could tell that even with her 18-year old innocent face, she must have been disgusted with my golf. So, a par-par-par finish along with a hefty tip, might have just worked in earning some respect.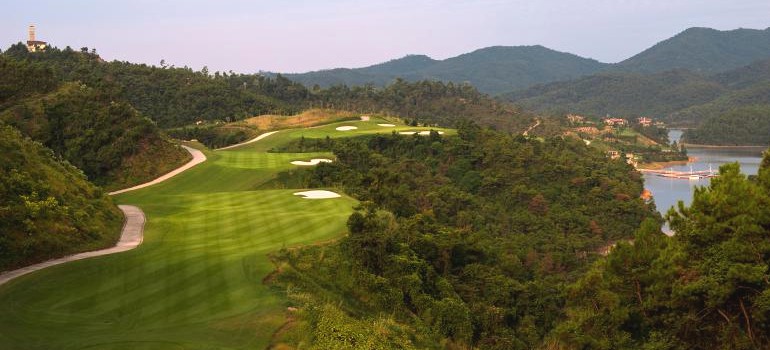 Golf in China Is Unique
But as I look back at this travesty, one thing still stands out – the exceptional golf course I played on. It's not a course for the weak hearted. The dragon is certainly lurking somewhere. Just as many other golf courses in China, it is a testimony to the raw beauty of the surrounding landscape. Such settings make a golf holidays in China unique and worth planning and executing. The language barrier is not that tough to overcome.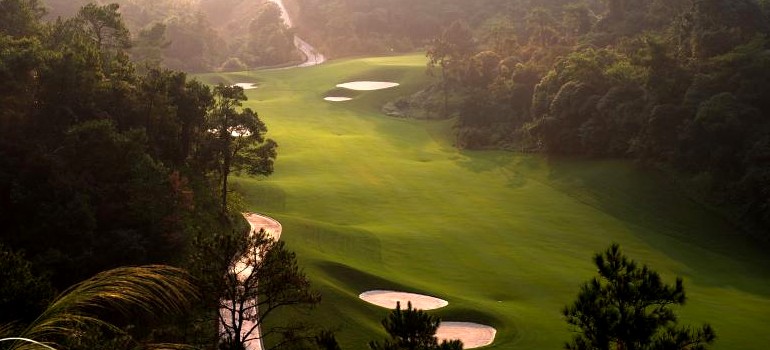 To play at the Dragon Lake golf course, write to us, www.golftripz.com/contact-us