There is a certain palpable sense of culture, tradition, and history going back many centuries, that a traveler experiences in the streets that make up the Hoan Kiem Lake & the Old Quarter area in Hanoi. And, quite simply, no visitor to Hanoi should miss out on taking at least a couple of trips to this area. Even if you are just a traveling golfer, ticking off another golf destination in your bucket list. There is much on offer, much to entice you, much to delight you, which in many ways is as rewarding as playing golf in Hanoi. Speaking of golf in Hanoi – it is a thrilling adventure in its own right, giving you little reason to not take up one of those splendid Hanoi golf holidays.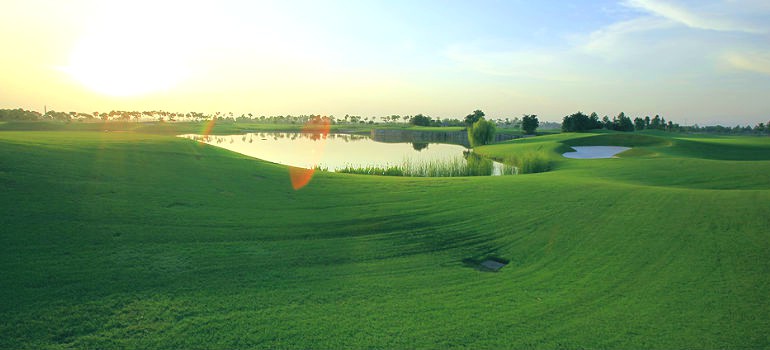 There are plenty of choices that can be made from amongst the Hanoi Golf Courses that suit your convenience and your eye. Not far from the city center, you have the option of playing at Long Bien, which is possibly the most luxurious army run golf facility that you'd see in the world. In the same vein of luxury, but with a lot more privacy is the Van Tri Golf Club – absolutely first-class private golf club that allows limited visitors – so if you can get on to it, don't hesitate even for a moment, pack your clubs and make the relatively short trip from the city centre. A little over an hour's drive gets you to the twin course facility of Skylake – with its Sky and Lake Courses – while the Lake Course is closed to the public, playing the Sky course is as good an experience as any in of the Hanoi Golf Courses. If you want drama at its best, which comes in the form of "Halong Bay on a Golf Course", then head to the Phoenix Golf Club and play at the majestic Phoenix (Champion) course, that forms part of the 54 hole facility. Do not even begin to think that this is where your options end. There is plenty more that can easily form part of Hanoi Golf Holidays, not the least of them being the Lake and Mountain Courses in King's Island – the short ferry crossing to get there, with caddies greeting you on the jetty, itself being an experience to cherish and remember. More promise of great Golf in Hanoi comes in the form of the Jack Nicklaus designed  Legend Hill golf course with all its holes featuring 2 sets of greens (as opposed to a Japanese style double green) as an innovation that will give you something to think about.
Hanoi Golf Packages can easily be extended to include courses in the nearby regions. Playing at the stunning Chi Linh Star en route to or from the mandatory Halong Bay is a definitive option – in fact with it offering 27 holes, you can get a bit of variety, should you choose to play on both ways – to and from Halong Bay.
Most of the year is good to play golf in Hanoi. But it is recommended that one avoids the extreme winter period starting in the second half of December and continuing to the middle of February as the golf courses are known to take a beating from the weather.
All in all, Hanoi makes for an excellent golf destination, with plenty of options of things to do and see, restaurants and bars to be entertained in, beyond your golfing day out.