Phuket is the premier golf destination in Thailand and in South East Asia for that matter. If you have been a visitor to this island in the turquoise Andaman waters, you will realize there is nothing to not like about the place. The beaches are picture-postcard spectacular, the surrounding hills and mountains form a perfect backdrop and the resorts go all out to spoil you. To top that, there is nothing that takes away from the cuisine, and for the night owls, the party seems to go on endlessly. And if it is daytime pursuits that interest you which include golf in particular, then don't look further as golf in Phuket is a treasure trove of delights. High-quality golf courses in Phuket abound and it follows that you ought to know which ones are best.
There is always a tussle when it comes to picking the best course in Phuket. Most visiting golfers choose either Blue Canyon (Canyon Course) or Red Mountain. The debate on which is better will go on for time to come, but one thing is clear – you should not miss out on either of these in a golf holiday in Phuket.
Blue Canyon Country Club (Canyon Course)

: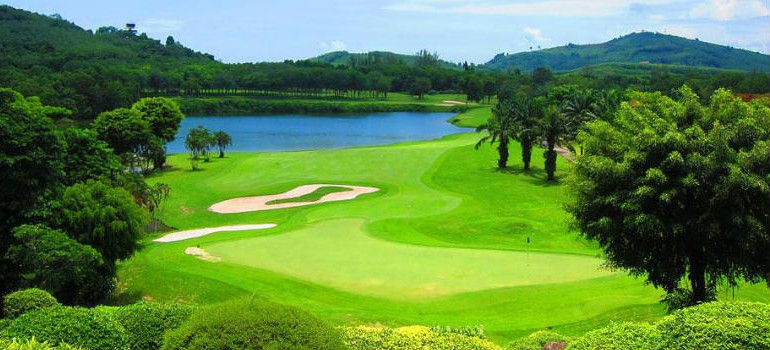 It is worthwhile to note that the Blue Canyon Golf and Country Club comprises two 18-hole courses – the Canyon Course and the Lakes Course. The Canyon Course is clearly the more illustrious of the two and has hosted the Johnnie Walker Classic three times – 1994, 1998 and 2007, with the 1998 edition won by none other than Tiger Woods. For Blue Canyon (Canyon) Course to feature such a tournament with the best golfers, it has to be special. And special it is. Set in a former tin mine, this golf course in Phuket demands committed ball striking and accuracy to hit the greens. Plenty of dangers lurk everywhere, especially the lush rainforest, ravines, and canyons. The Blue Canyon course is possibly a little more rustic than the Red Mountain, which is a plus for many golfers, but what really thrills you is the layout and the shot-making that you need to get around the course with a low score. The back 9 is especially delightful with some incredible holes that will inspire you to play your best golf. Nothing gets better than the Blue Canyon (Canyon) Course in Phuket. Ah, I said it!
Red Mountain Golf Course: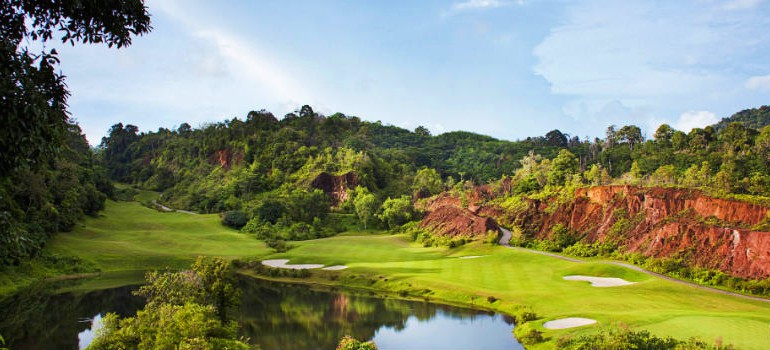 Author bias apart, the Red Mountain is a true beauty. Just like the Blue Canyon, it is also set up in a former tin mine, which allows for some amazing hole layouts with elevation changes, canyons and forests being the name of the game. If you plan on taking pictures of your golf holiday in Phuket, there are no better places than the various tee boxes of Red Mountain Golf Course. It is usually the course condition that is a point of difference for the Red Mountain over the Blue Canyon (Canyon) Course.
Laguna Phuket Golf Club

: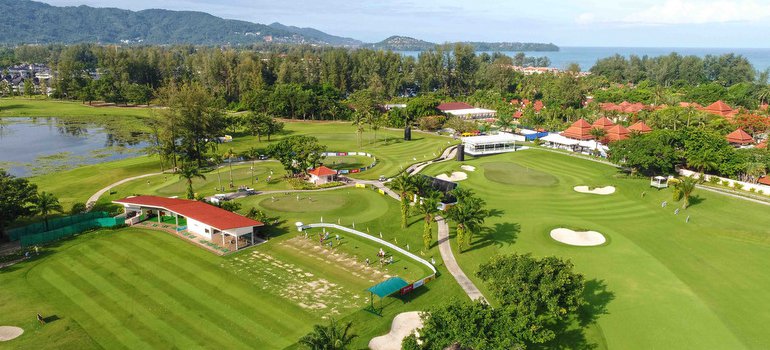 The newly renovated Laguna Golf Course, which forms part of the Laguna Resort Complex should now definitely feature on the list of the best golf courses in Phuket, especially with the treat in store with the mint conditions. Although relatively flat, there is enough to keep you interested, particularly in the tightness of some fairways and the undulations on the greens.
Mission Hills Phuket Golf Resort & Spa

: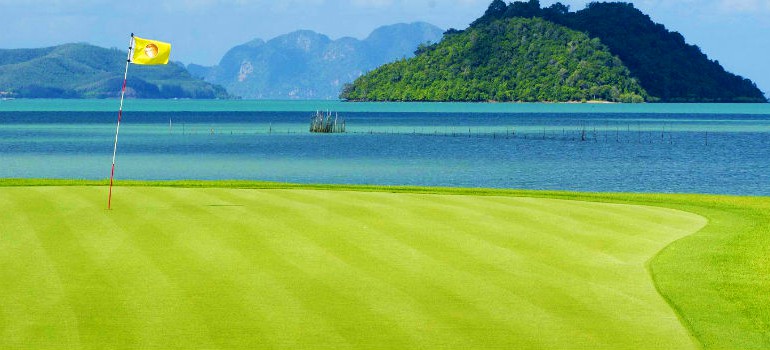 Just as there is a debate on the best golf course in Phuket, there is also a question about the fourth golf course to pick in a golf holiday in Phuket. While my bias would suggest that, you can repeat either of the Blue Canyon (Canyon) course or Red Mountain Course, there are many who would vouch for the Jack Nicklaus designed Mission Hills that offers views with a difference from the other golf courses in Phuket, being set alongside the Andaman sea. Mission Hills is relatively flat and in the true Nicklaus style features large sandy wastes as an ongoing theme. However, some really well laid out holes offer quite a bit to think about and if the wind is up, then it is another matter. Regardless, golf pictures with some stunning backgrounds can only flatter you as a traveling golfer.
Loch Palm Golf Club & Blue Canyon Country Club (Lakes Course)

: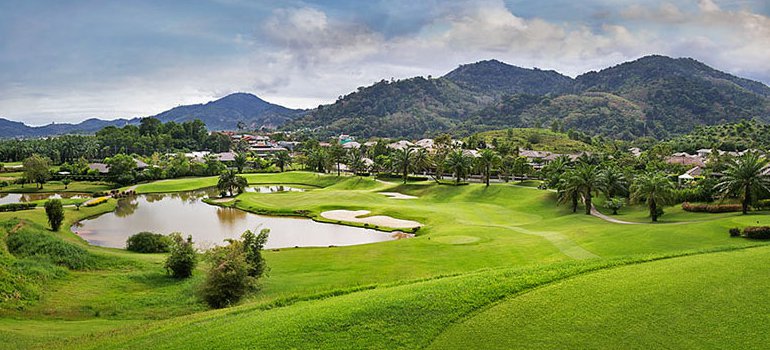 The other 2 courses that are in contention are the aforementioned Blue Canyon (Lakes) Course and Loch Palm (the sister course of Red Mountain). For a relaxed golfing round, you can go with Loch Palm – golfing does not get easier than at Loch Palm. However, if you are after some more challenge, the Lakes Course will not disappoint. In fact, you may well be surprised with what it has to offer. For many, it may even be the No.3 golf course in Phuket.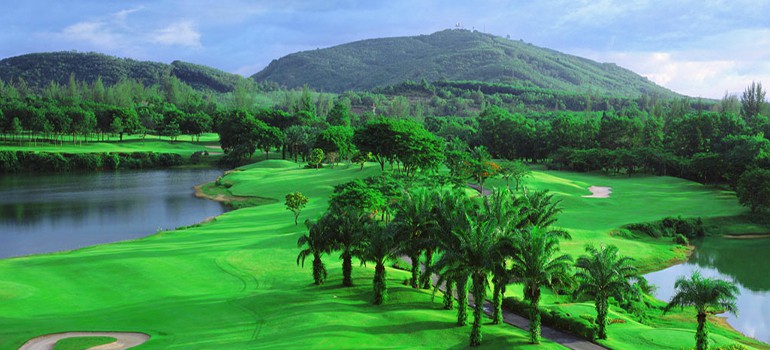 There are other options for golf in Phuket too. The list above should help any golfer plan a golf holiday in Phuket, but if there is more you are looking for to add on, then consider the Phuket Country Club.
The options for golf in Phuket are plenty. There are some excellent resorts as well as hotels to suit various budgets that you can choose from to make your golf holiday in Phuket complete.