There are several reasons to take a Bangkok Golf Holiday. Nikanti Golf Club, is most definitely one of them. In fact, one could say that you would have a sub-par golf holiday, if Nikanti was not in it. To be clear, there is no pun intended here! Nikanti is perched right up with the best Bangkok golf courses such as Alpine and Thai Country Club. Yes, the relative time to get there is a factor, but not quite enough to miss out on this gem. And once you get there, you will realize there's much more to the experience than just the golf course.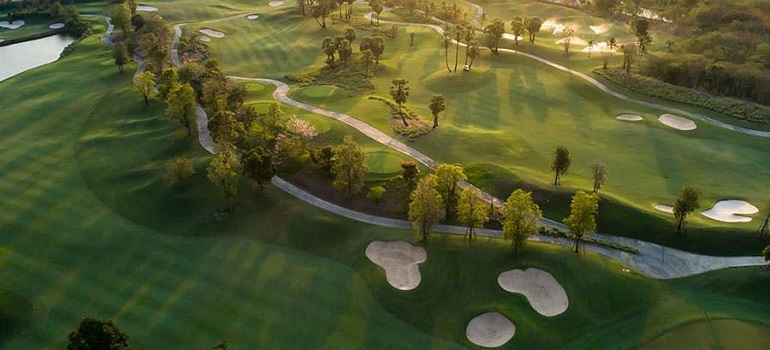 The Essential Bangkok Golf Holiday Experience
The 5-Star Nikanti golf course experience begins as soon as you set foot into the plush and contemporary clubhouse building. Correction, a little before that!  Just when you are driven through the main entrance, you can see a treacherous looking golf hole to your left. Many are found to sigh and brace for the challenge. But that sentiment lasts for only a moment. The locker rooms are the best you would see, although you should be mindful of how the lockers operate. That said, do not be overwhelmed as there is excellent support at hand to get you out of any tangle. Without too much ado, you should find yourself making your way to your waiting caddy and buggy. The essential Bangkok golf holiday experience at one of the best Bangkok golf courses has just begun.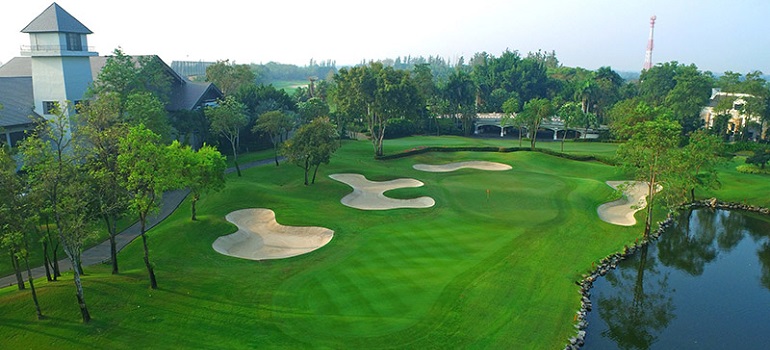 The Three Sixes at Nikanti 
A novel concept in golf course design are the 3 sets of six holes at Nikanti. A departure from the traditional front and back nines, this lends itself to greater flexibility in golf course operations. Each set of the 3 sixes, consists of 2 par 5s, 2 par 3s and 2 par 4s. So, you are still playing a par 72 course. Furthermore, you could start from any of the 3 sixes and play them in any order, adding great flexibility. And this flexibility doesn't necessarily have to come at any compromise on excitement. Each of the 3 sixes, starts and ends with scintillating par 5s, making for an even spread. For all this and more, Nikanti is truly one of the top Bangkok golf courses. One that you would consider a must play in every Bangkok golf holiday.
The Thrill and Memories of the Par 5s
I talked about an even spread earlier. While that is largely true, I would still pick some holes that I would remember more than others. Amongst the par 5s, the 1st, 13th and 18th are possibly the most memorable, the 1st not any less so. In fact, the treacherous hole that you saw, while driving has that very number.  While the long hitters off the tee can carry the waterbody, the shorter hitters don't necessarily have an easy lay-up. The trouble continues ahead with water all along the left, with the green protruding out into it. Not an easy approach for the fainthearted, wherever on the fairway or rough you maybe! It's a thrilling start to one of the most thrilling Bangkok golf courses.
The Deception
There is nothing wrong with the par 3s either. Almost all of them have a sense of deception about them – elevation change, club selection, bunkers, water, bush being factors. However, there is just one thing that I have come to fault. It is the choice of the Index 1, par 4, 9th hole. There's little in the way of making it a memorable hole at Nikanti golf club, let alone in a Bangkok golf holiday. It's just the length and possibly some elevation change. Thankfully, this sits right in the middle of the round, hence, easily forgotten.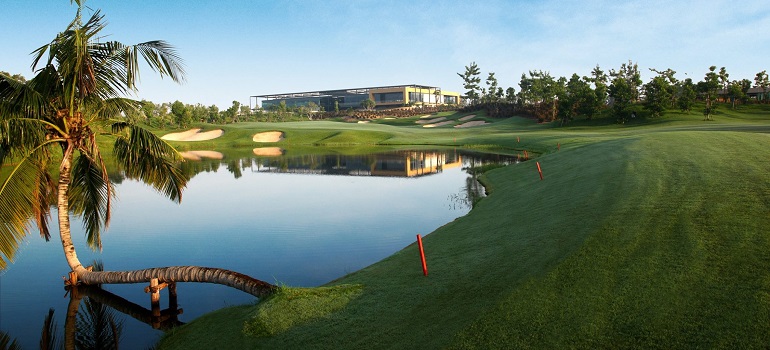 The Bells and Whistles
The course condition and maintenance standards are commensurate to this exceptional Bangkok golf course experience. There is little to fault, whether on the fairways or the greens. Even the roughs, albeit penalizing, are fair as far as maintenance goes. Caddies, as in any Bangkok golf holiday are key to the experience, and at Nikanti they are right up there. Buggies are equipped with GPS, so golfers have an additional level of course information to fall back on. However, if it's one thing that sets Nikanti apart, it is the lunch/dinner inclusive package. In addition to this, they can also get select refreshments on the golf course on a complimentary basis.
In summary, the experience at Nikanti is one of the best if not the best in the Bangkok golf courses. Playing a round in at Nikanti in a Bangkok golf holiday can do no harm. Even if it takes a little bit longer getting in or getting back or both. You will be better off having done it.
To book a Bangkok golf holiday including Nikanti golf club, check www.golftripz.com/golf-holidays/bangkok (or) write to info@golftripz.com to plan a golf round at Nikanti.